Trolling for walleyes with crankbaits has been the most popular method because of its different presentation ways. For example, you can use your crankbait through a lead core line, snap weight, or an attached planner board. So, this method is very effective for walleyes fishing. 
However, not always, and in every way, you can use crankbait to troll for walleyes. There are some simple yet unique ways to utilize them. 
In this precise guide, we'll share some easy techniques to present crankbait to walleyes that can be effective for anglers who cannot fill their boats with extra walleyes yet. Let's begin!
Do Walleye Like Crankbaits?
A properly chosen crankbait can be an excellent fishing bait for walleyes to bite. Shallow water walleyes like the crankbaits that run at 6 to 8 ft deeper along with a 100ft long line.
And, according to the water depth, you need to increase or decrease the line length. And it's a great way to increase walleyes' eagerness to bite.
The big-size walleyes that are seemingly tough to catch, crankbaits can ease your way for these hard-hitting walleyes' bite. So, yes, the walleyes like crankbait to get their food. 
Can I Troll With Crankbait?
Walleyes are commonly a bit different from other fish like pike, tuna, bass, etc. Therefore, you must follow some special techniques while trolling for walleyes. And, troll with crankbaits is one of the top methods to fish walleyes. 
You can troll walleyes with crankbaits easily, right following some efficient methods. Go through our next sections to learn how to troll with crankbaits.
Trolling For Walleyes With Crankbaits: 6 Best Tips
It's like a mental game to troll with crankbaits that enable you to catch more or fewer walleyes. They are pretty fickle about what and when they bite. 
However, you don't have to prepare for a tremendous fight once you understand their behavioral nature. Some must-follow tips can take you to the next level. So, let's explore!
1. Longline Troll Crankbait
Longlining is pretty easy to follow. Let out the fishing line behind your boat from 100ft to 170 ft. Then you must troll using your main motor. A windy or weather condition right before the darkness is ideal for longlining crankbait trolling.
2. Lipless Crankbaits
Many anglers get overwhelmed by choosing lipless or lipped-styled crankbait. To make a large splash for walleyes, lipless crankbaits get priority. The lipless crankbait produces more rattling noise and vibration in the water, easily triggering strikes from large walleyes. However, lipped crankbait also comes in handy in deep and freshwater fishing.  
3. Focus on the Fishing Rod Accuracy
Set the fishing rods on the holders, allowing the walleyes to hook themselves on the rods while hitting the crankbait. Using Rod holders on the trolling boat is a highly convenient method for trolling walleyes. You can cover a wide area with rod holders. 
4. Timing
While trolling for walleyes with crankbaits, paying attention at the right time is a must-do job. July and August are the finest months for trolling walleyes with crankbaits in shallow-water lakes. 
You can also catch walleyes in April, May, and June, but July and August are the hottest summer months, attracting more walleyes for this crankbait method. The temperature during these months pushes walleyes to chase down the bait fish.
5. Water Depth
Adjusting the crankbaits according to water depth is another must-follow technique that novice anglers cannot understand. You must adjust the crankbait perfectly, especially when the walleyes are deep diving. 
The minnow-imitation crankbait will work perfectly if the walleyes are found less than 9 ft. Yet, the live bait rig is excellent for the walleyes in 18 ft deeper. Troll your crankbait slower on the shallow water surface. 
6. Weather Condition
To troll in stable weather is perfect for presenting the crankbaits to walleyes. This species rarely hit the crankbaits in drastic weather.
How Fast Do You Troll For Walleye With Crankbaits?
Trolling speed for crankbaits is a significant issue for walleyes fishing. 
The most common mistake the anglers make is fast trolling speed. When you troll with crankbait, the trolling speed should be between 1.5 mph to 3 mph, depending on the time and the water level. 
If it's spring, keep your trolling speed between 1.3 to 1.5 mph. Trolling crankbaits for fall walleyes should move at 1.5 to 2.5 mph. And in winter, 1.5 mph is optimum. 
However, in the summertime, you should go through the highest speed between 2 to 3 mph, compared to the other seasons. 
How Do You Rig a Crankbait for Trolling: Step-by-Step Process
Learning how to rig a crankbait for trolling while fishing walleyes is precious. Before that, learn why these are called crankbait. Crank and baits make crankbaits. Crankbait get the names because they float lures with the help of their diving lip. 
However, they begin to float when you throw them on the water but won't do anything until you turn the fishing reel crank. And this is when the crank makes them (crankbait) provide their action. This is how the crankbait works to catch walleyes. 
However, how do you fish walleye with a crankbait? Here are the steps on how you can rig the crankbait for your favorite walleyes-
Step 1: Put Your Rigs on Either Side
In the first phase, you've to set your rigs. Putting the rigs on one side at the stern of the motor will make a productive combination of snaps, sinkers, hooks, etc., to cover wide water surfaces. You can use up to 5 rigs from each side of your trolling boat.
Step 2: Fix the Gear Range
Now it's time to set the crankbaits. Fix the crankbaits on 14 ft poles, and they can run up to 120 ft behind your boat. This measurement will assist your crankbait in preventing wadded-up from seaweed when you turn your boat. 
Step 3: Set Your Reel 
It's important to set the reel appropriately before you cast the fishing lure. Set the reels as light as possible, and it will protect the crankbait from tearing out the walleyes' mouths. Also, you should be aware the darg isn't too tight.
Step 4: Cast the Crankbaits
Once you prepared or set the rigs ready, now cast your crankbaits. Try covering as much water column as possible. It will allow the crankbait to reach the exact depth where the walleyes are at that moment. 
Step 5: Focus on Different Depth Levels
Keep running your crankbaits at different depths based on where and when you're trolling. Consider the boat speed and line length to let the crankbaits reach the accurate depth. 
In this case, the ideal line length varies between 50 ft to 150 ft, and the boat speed varies between 1.5 to 3mph or more (per your water column requirements). 
Remember, the longer the line, the deeper the crankbait will run. For a better understanding, you can follow the trolling depth chart given below-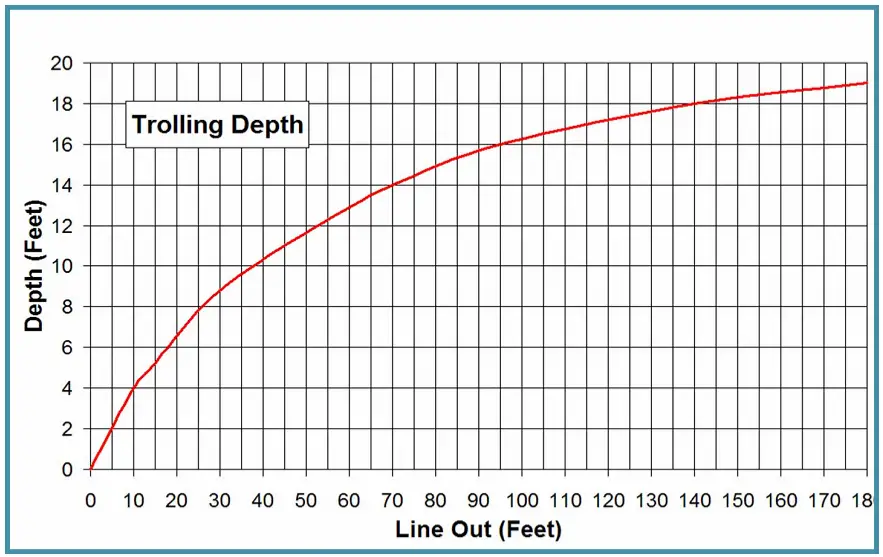 Step 6: Keep Trolling
Once you set everything fine, you're ready to troll with crankbaits. Yet, here's something to consider so smartly: the type of your trolling motor. When you troll with walleyes, the remote-controlled trolling motor will be the best option for easy operating and handling.
The Minn Kota Riptide remote-controlled motor is highly recommended for trouble-free trolling. This i-pilot-featured motor is an excellent tool for cranking because you can easily concentrate on the walleye rigs. 
Step 7: Follow the Baits
In this stage, you have nothing but to follow the baits, full of concentration. It's easy to find walleyes if you concentrate properly. Because they will keep biting constantly, you can see the shed flipping out endlessly on the waterbody. So, don't be distracted!
Best Walleye Trolling Crankbaits
Crankbaits are already the most undeniable gear for trolling, but when you go through the trolling method with crankbaits, no question should be about its importance. You must choose the top usable crankbaits you can use throughout the year. Here are 2 of the top crankbaits according to their performance-
Yo-Zuri Yo Zuri
When you troll in the shallow water, this lightweight crankbaits with only 0.02 lbs will be your best fit. It is designed as the crystal minnow for advanced walleyes fishing. And this crankbait is made with split rings and nickel round hooks to ensure more catching. 
The Yo-Zuri is a freshwater-compatible fishing gear available in two different sizes. You'll get it available in both translucent and painted versions. 
Bandit Walleye Deep Crankbait (BDTWBD2B82) 
Bandit is one of the hottest crankbaits to catch walleyes with its wide speed ranges. The design of a minnow body attracts the walleyes in the fishing area. It comes with one size design and multi-color availability. 
The Bandit crankbait performs the best for both the deep and fast trolling procedure. It will allow tracking the walleyes at any speed level. 
Bandit Walleye Deep Crankbait (BDTWBD2B83)
This crankbait model of Bandwith is another latest innovation which becomes so popular for lake fishing.
It comes with a slip profile to make a tight movement to attract the walleyes easily. Its striking color pattern is also another reason why walleyes like make their bite on it so quickly. 
What Is The Best Color Crankbait For Walleye?
Walleyes often hit the crankbait but don't feed. It's their nature to give a reaction toward baits. At this point, focusing on the lure color will make a big difference. When you troll in low clarity or murky water, like in a lake, use the lures with rattles or brighter colors. 
In the case of a deep clear lake, you must choose a lure color that will resemble the walleyes forage. It means the best color determination comes based on the water condition. When you troll in the clear water, you can use any color, including white, and attract walleyes. 
The golden or yellow color is most handy for muddy water. Again, if the water condition looks green-algae-laden, use the black color crankbaits. 
FAQs
Is it OK to use a swivel with a crankbait?
No. Although the fishing swivel can save you time, the bulky and big size can scare the walleyes. Also, the unnatural look of the swivel will lessen your fishing possibility. So, you shouldn't use a swivel with crankbait while trolling for walleyes.  
Do crankbaits have to hit bottom?
Crankbait should run through a versatile movement and depth into the bottom, stump, boulder, and many more. So, yes, the crankbait should reach the bottom to fish walleyes. 
What pound test should I use for crankbaits?
For walleyes, the ideal choice is to go through a 10 to 14-pound monofilament test line. To handle the big walleyes, these pound test lines are strong enough. Yet this line is also thin enough to allow crankbait settings to reach a substantial depth. 
How fast should I reel in a crankbait?
From medium fast to moderate speed, action is considered the ideal speed for reeling in a crankbait. More specifically, the more precise speed goes with 21 inches of the fishing line for each pick-up turn of the reel. 
Final Thoughts 
You should know when and how to troll for walleyes with crankbaits. And in this guide, we've shared all the essential strategies to help you master your skill. Once you learn to apply these methods, you'll know trolling for walleyes with crankbaits is easy and enjoyable.