Imagine effortlessly gliding through the water, your boat precisely positioned amidst a bustling school of fish. With spot lock trolling motors, this fishing dream becomes a reality. Equipped with GPS precision, these game-changers keep you in control, even against strong currents or rough weather. No more fighting nature's whims; focus solely on reeling in your prized catch. But with countless options, choosing the right motor can be daunting.
Fear not! We've done the work for you. Presenting the top 10 spot lock trolling motors, your path to angling success.
Editor's Choice
Cheapest Trolling Motor With Spot Lock:
MotorGuide Xi3
With complete wireless operation and an onscreen control display, investing in the Xi3 is a no-brainer for any serious angler.
The Most Premium Trolling Motor:
Minn Kota Ultrex
The high-impact composite material, momentary on, heel/toe steering, and all other advanced features made it the priority for Pro anglers. Minn Kota Ultrex is the most intuitive, responsive and the best spot lock trolling motor for boat control.
Trolling Motor With Spotlock: Best Picks From The Market
The trolling motors we picked for our top list are the best trolling motor with spot lock because of their outstanding features, quality, and performance. Also, these are affordable. So, check out which one is yours-
Minn Kota Trolling Motors With Spot Lock
Starting off with a list of Minn Kota motors that comes with Spot Lock.
1. Minn Kota Ultrex Spot-Lock Trolling Motor
The stronger and smarter featured spot lock Minn Kota Ultrex trolling motor can retrace and save the current track, letting you return to the exact waypoints. This trolling motor can keep the wiring and transducer completely protected and concealed. So you can run the motor with its shielded connectors smoothly.
Why Do We Choose It?
The digital maximiser of Minn Kota Ultrex offers longer durability compared to the ordinary trolling motor. You can run the motor the whole day without any battery-draining problems. So, it can reduce the charging hassle several times and easily unlocks your whole day of fishing.
Easy steering Lock Technology
Controlling the motor using a foot pedal constantly can tire you, and taking an off can create a readjustment problem. The Minn Kota Ultrex requires no readjustment while taking your foot off the pedal. Because of its steering lock technology, the motor will keep pointing in the direction that you commanded the last.
Tackling heavy wind and waves takes work, especially for the beginner. The Minn Kota Ultrex is designed with 112 lbs of highest thrust, which can solve your tough fishing condition without flinching. 
As the Minn Kota Ultrex is featured with lift-assist technology, it will help you decrease the weight of the stow in half. So it will be easier for you to lift all your SUV tailgates. 
Pros
3-year of manufacture warranty
High-impact composite materials
AutoPilot on/off system
Instant Responsiveness
best gps trolling motor
Cons
Suitable for freshwater only
2. Minn Kota Terrova Trolling Motor
If you want a motor that offers optimal sonar performance, the Minn Kota Terrova is here. Its built-in US2 (Universal Sonar 2) keeps the wiring and transducer well-protected and concealed. Therefore, your trolling motor can run properly and ensure optimal performance.  
Why Do We Choose It?
You can easily lock the boat into the desired spot with only a click on the button. Additionally, its i-Pilot link system will let you control the motor through a virtual or touchscreen remote. 
Easy-to–Deploy Technology
The Terrova freshwater trolling motor features easy-to-deploy technology for its fallway ramps to slide the motor into the water easily. Besides, it can stow effortlessly in terms of its brilliant lift-assist spring-loaded design. 
The low-profile e-foot pedal has two options: left/right steering and heel/toe pedal. As a result, you can use any of these options that will be convenient for you.
Since the Terrova has come with spot-lock technology, you can lock your boat onto a specific fishing zone using GPS. Also, it will allow you to record the speed and paths, making your fishing job more productive. 
Pros
Extremely easy to use 
Noiseless operations
Extended battery life
Standout features
Cons
No warranty will be available
3. Minn Kota Riptide Terrova: Cheapest 24V Trolling Motor With Spot Lock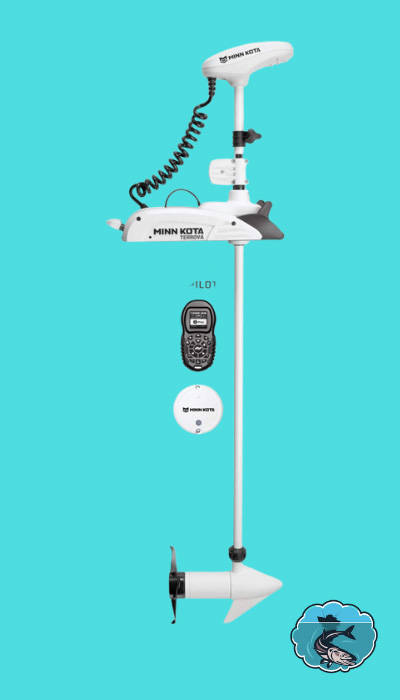 When you wish to have a trolling motor that runs a cool operation, the Minn Kota Riptide Terrova is what you are looking for. This 24v trolling motor with spot lock will come in handy for its durable life span and value your investment. Its advanced corrosion protection technology prevents rust and oxidation to ensure ultimate protection.
Why Do We Choose It?
The Minn Kota Riptide is designed to handle every single harsh condition of saltwater. This motor is easily equipped with different thrust levels and shaft lengths to meet your requirements.  
The spot-lock system will let you be in your chosen place through its unparalleled GPS accuracy when you want to be in one place right. The Jog will allow you to move in the 5 feet direction of your spot-lock location. 
Due to the availability of a digital maximiser, you can run your motor 5 times longer with only a single battery charge. It will relieve you from charging problems and give you the highest power you need for the entire day. 
The autopilot feature is included in this motor to navigate your boat automatically in any direction. So, it will be easier to change the direction anytime if the currents and wind are not positive to fish. 
Pros
Mobile app compatible
Saltwater trolling motor with spot lock
A battery meter is included 
Cons
4. Minn Kota Riptide Powerdrive: Best Spot Lock Trolling Motor For Saltwater
The most advanced features are spot-lock, digital maximiser, AutoPilot, and i-Pilot. And, if you want to combine all these advanced features in one tool, the Minn Kota Riptide PowerDrive model is the right trolling motor for you. 
You'll be able to control the overall performance of your fishing boat. The Minn Kota PowerDrive is powerful, efficient for fishing and guess what it's the cheapest minn kota with spot lock in our list. 
Why Do We Choose It?
It is the best piece tool for boats with its i-Pilot trait, especially when you run the Hummingbird fish finders. This i-Pilot link version will get you an outstanding result. Because you can link the trolling motor and the fish finder together. Besides, you can run the spot lock with only a press of a button without any hassles. 
Advance Corrosion Protection
Not all motors are capable of preventing rust and oxidation. But, the Minn Kota PowerDrive is grit-blasted and features aluminum and powder coat paint. Therefore, it can remove oxidation and keep your motor safe. 
High-Impact Composite Material
The Riptide PowerDrive motor will last long because of its high-impact aluminum material. It's great gear for professional anglers. 
With its deploy assist lever, all you need to do is to press it, and it will be easier to get in and out of the water. When you want to move your boat, it will help you stow securely and easily. 
Pros
Indestructible composite shaft
Automatic navigation
Lightweight design
Best saltwater trolling motor with spot-lock
Cons 
It's a compatible saltwater motor
5. Minn Kota Ulterra: Best 80lb Thrust Trolling Motor With Spot-Lock
The Minn Kota Ulterra features to deploy and power trim/ auto stow, i-pilot/ i-pilot link, and multi-function foot pedal. And all these super features made it the top choice for anglers. This amazing 80 lb thrust trolling motor with spot-lock will enable you to trim, deploy, and stow your Ulterra wirelessly. It is built-in down imaging sonar and MEGA side.
Why Do We Choose It?
This motor is a combination of swept-back flared blades. As a result, it can power up without any battery-draining issues. Most importantly, it is mobile-compatible. So, you can connect the i-Pilot to any of your iOS devices and implement a quick command of spot-lock, speed, AutoPilot, steering, etc. 
It's easy to stow and deploy the Ulterra because of its hassle-free functionality. All you need to do is to push the button on the i-Pilot Link remote, Hummingbird fish finder, or foot pedal. Since it requires no hassled function, anyone can operate it. 
Optimal Universal Sonar 2
The US2 is included to help you find fish and keeps the transducer secure. As a result, your operation will go perfectly. 
Precise Shaft Length & Thrust
The Ulterra has a 45 inches shaft and 80 lbs thrust, making the trolling motor powerful and highly performed. The heading sensor, multi-function foot pedal, and mounting hardware are also great features to offer an outstanding fishing experience to professional anglers. 
Pros
Noiseless operation
2-year warranty
High-quality shaft
Cons
6. MotorGuide Xi3: Cheapest Spot Lock Trolling Motor
When you want your trolling motor to offer complete wireless operation, look for the MotorGuide Xi3 trolling motor. It adds convenience and simplicity to get a good experience on the water. The best part? It's the cheapest trolling motor with anchor mode.
This spot-lock compatible fishing gear has total control over its high-tech options, for example, an onscreen control display and pinpoints GPS. So, this motor will speak for your investment. 
Why Do We Choose It?
Fishing for a long day is undoubtedly hard, but the Xi3 trolling motor, with its innovative and secured deploying and stowing, will help you save your energy. You will be able to fish without facing any trouble. 
Since the Xi3 is remote control compatible, you don't have to be in a specific place of your boat to operate the motor. In that case, you can operate your trolling motor anywhere on your boat. 
An exclusive LED dashboard is included in the Xi3, allowing you to check out the status quickly. You can read the dashboard and learn about the conditions of 4 key functions. It will keep you updated if you need any changes. 
It provides 55-thrust and 48-inch shafts to ensure high performance. Also, it is available with a 3-blade exclusive Machete propeller.
Pros 
Easy installation process
5 times longer battery life span
40% more silent operation
budget friendly 12 volt spot lock trolling motor
Cons
The foot pedal system is extremely fast
7. Lowrance Ghost: Best Bow Mount Trolling Motor With Spot-Lock
To anchor the boat anywhere on your waypoint regardless of wind conditions, the Lowrance trolling motor is right here with its brilliant marine expertise. All you need to do is press the access key with your foot and raise the shallow-water Power-Pole anchor. 
Why Do We Choose It?
Lawrence is the result of 10000 testing hours, and 60+ years of researching queries for most of the trolling motor fail. It delivers the most reliable and robust features for anglers to handle tough situations. 
You'll wonder if your trolling motor is running as it allows you to move silently and never let the fish hear you coming closer to them. It's a great way to catch more fish in less time.
Interference-Free Sonar View
This brushless motor has the capability to emit zero electromagnetic interference so that you can get the clearest sonar views on the display of your fish finder. 
60% Better Run-Time Efficiency
It delivers a run-timer efficiency 60% better than the competitor's market models. As a result, you'll be able to apply the best acceleration and top-end speed without having any battery charge-reducing issues. 
Pros
Configurable foot-padel to prioritize your preference
Full touch screen control
Instant fly-by-air steering control
Low battery draw
Cons
Only freshwater compatible
8. Motorguide Xi5: Best 55 lb Thrust Trolling Motor With Spot Lock
The spot-lock compatible MotorGuide Xi5 trolling motor has a fully wireless operation, enabling you to control the motor from anywhere on the boat. As an angler, you'll get superior propulsion for controlling your operation. Also, operating this Xi5 will let you experience 50% faster operation.
Why Do We Choose It?
If you want a high-quality trolling motor for freshwater, the MotorGuide Xi5 will be highly convenient. It is one of the top-performing trolling motors for freshwater. So, it will be your best choice while fishing in the freshwater.
Very few motors can offer such an exclusive shaft that withstands touch compatibility. The shaft feature will give an amazing operating experience.
This motor will offer the most accurate GPS, tighter hold on the anchor base, and 3 times excellent control in terms of its Pinpoint GPS. Additionally, it will offer Jog functionality. So, you'll enjoy having advanced navigation. 
The thing that will attract you is the steering feature of the Xi5. It has 3 modes, and you can choose whether to operate with hand, foot, or electric steer.
Pros
Built-in sonar transducer with 83/200 kHz
12 Volts available for 52 AMP maximum
Can lead boats from 14 to 18 feet in length
12v trolling motor with spot lock
Multi-functional display
Cons
9. MotorGuide Tour Pro Trolling Motor
To get 3 times more precise pinpoint GPS anchoring, you can rely on the MotorGuide Tour Pro. It will allow you to stay on your required structure and fish in the extremely strong wind and current. The Tour Pro is a durable tool to tackle harsh conditions with stumps and rocks. 
Why Do We Choose It?
The Tour Pro will be your choice to get high-definition traditional sonar views. Here're all the advanced features that made it the best- 
This motor is built with a two-piece rugged shaft which features an outer column with stainless steel and an unbreakable inner shaft. 
Unlike other ordinary motors, it is featured a solid steering metal foot-pedal system. Therefore, you won't have to lead risky operations, so you can run a complete non-slip and no-flex safe operation. 
Regarding its heading lock and the push-control GPS anchor, you can set your course trouble-free to focus on a precise fishing target. The Zero-G lift, on the other hand, is readily available to help you get an effortless stowing and deploying.
Pros 
HD+ Sonar compatibility
Easy to operate
Usable for a long time fishing
Cons
10. Garmin Force Spot-Lock Trolling Motor
The most powerful spot-lock trolling motor is the Garmin Force trolling motor. It plays efficiently on different fishing grounds.  And, when you want a noiseless operation, this high-powered motor can be the right tool. Again, it withstands strong wind and waves for a better fishing job. 
Why Do We Choose It?
The Garmin Force is easy to use since it offers flexible options. You can either use it wirelessly or can install the hardware. Also, you can use the wireless foot pedal to steer it.
The Garmin Force has an ultra-modern, water-resistant remote system with sunlight-readable display mode. So it will allow you to control the motor with ease. Also, you can control the motor Chartplotter through its user-programmable keys. 
Built-in Garmin AutoPilot
The Garmin autopilot features GPS and a heading sensor which can deliver an excellent anchor lock or spot lock for your convenience.
Operates Noiseless Above & Below Water
Some trolling motors ensure quietness below the water surface, but the Garmin Force will ensure tremendous silence above and below the water level. 
Pros
Integrated sonar system
Easy to use
Robust materials
Cons
You must make sure whether it's compatible before you buy it
Is A Spot-Lock Trolling Motor Worth It
For the anglers, the spot-lock of a trolling motor works as a game changer. Because it will enable you to be fixed on the potential fishing area for more fishing time.  Spot-lock works greatly to attract anglers to fishing as they can catch more fish than the ordinary trolling motor.
You can stay stuck to your desired place tension-free since your boat won't move. Changing rods, rigs, lures, and whatever you need during fishing will be hassle-free. 
How Does Spot Lock Work
Spot-Lock feature uses GPS coordinates to help keep a boat in a fixed location. By creating an arrival circle and adjusting the motor speed and direction it keeps your boat within the circle.
These GPS coordinates are saved in memory and when the motor goes outside of circle, the system will bring it back in.
Can I Put Spot-Lock On Any Trolling Motor? How?
Not all brands manufacture their trolling motors with spot-lock compatibility. In this case, you'll have to check whether the model you chose is designed for spot lock adjustability. Some of the trolling motors are originally available with spot lock versions, for example, Garmin Force, MotorGuide, Minn Kota, etc. 
Best Trolling Motor with Spot-Lock: Buying Guide
You must consider some fundamental factors before buying your trolling motor with a spot lock. Considering these factors will ensure the quality and performance of the spot-lock motor. Let's see what these factors are-
Shaft Length 
Determining the shaft length is important because if you fail to determine the appropriate shaft length, it will surely create problems. The shaft length shouldn't be too short or too long.
Thrust 
To propel your boat requires a high amount of power and strength directly from the thrust of a motor. Ensure the motor's thrust is enough, considering your boat's size.
Voltage
Trolling motors come in 3 voltage types 12V, 24V, and 36V. Since voltage speaks for the motor power, you must choose it tactfully. Check out your boat type and determine what voltage will be accurate.
Features
Trolling motors with spot locks are extraordinary in terms of their advanced features. But you won't get all the features in all the models. At that point, you'll have to check all your desired features are available before you buy. 
FAQs
Does Spot-Lock scare fish?
No, spot lock helps you to fix your boat on a specific fishing spot, but it never disturbs or scares fish.
Does spot lock work under the bridge?
Yes, spot locks won't work under bridges or heavy overhead structures. Because spot lock works through satellite signals that cannot reach if you are under a bridge.
Will spot lock work without a heading sensor?
The spot lock in a trolling motor performs based on the GPS. So, it's not mandatory to have a heading sensor to run spot lock. 
Does MotorGuide have a spot-lock trolling motor?
Yes, MotorGuide Xi5, and Xi3 models also have a spot lock system.
Does Minn Kota Riptide Terrova have a spot-lock?
Yes, it has the spot lock feature.
Does spot lock work with Garmin?
Yes, the Garmin Force trolling motor offers spot lock feature. They like to call it anchor lock.
Final Thoughts
To build your fishing skill, trolling motor with spot lock can be an ideal gear. But, it's also true that not all the spot lock trolling motors are high quality. You must have good market research before you buy them.
Anyway, to lessen your research hassle, you should double-check our trolling motor with spot lock reviews. Hopefully, you'll get the best one. Be a professional angler with our top picks!