It is said that the saltwater surface is harsher than the freshwater surface. So, it commonly requires more advanced trolling motor fishing in saltwater. 
Using a saltwater-compatible trolling motor will allow you to control the boat drift more accurately and effortlessly. The best saltwater trolling motor on a flowing river or strong ocean current can greatly benefit anglers. 
The brackish and the excessive salt in the water can damage your trolling motor unless it is salt compatible. Therefore, it is strongly recommended to buy a saltwater-compatible trolling motor when deciding to fish in this rough water level.
Besides, to get plenty of power to handle the heavy-duty boat in saltwater against strong wind and current, you must go for the trolling motor, which is made for saltwater.  
So, if you're searching for saltwater trolling motor brands, we can help you. We will guide you through our top 8 picks and a precise buying guide so that you can make your choice faultless. Stay Tuned!
Editor's Choice
A Trolling Motor for Bang for The Buck: MotorGuide Xi3
In terms of the MotorGuide Xi3, you'll get an exclusive retractable handle allowing you to operate the motor trouble-free. Noiseless operation, Easy-to-Read LED dashboards, and different speed-controlling technology are the additional benefits of choosing this motor. 
If you want your trolling motor with spot-lock compatibility, the Minn Kota Riptide will be your right fit. Furthermore, its automatic navigation, digital maximizer, and robust body construction will value your investment.
A Beginner-Friendly Trolling Motor: Caroute N300
Considering the advanced features, for example, extendable tiller, 3-blade weedless propeller, and depth adjustable collar, the Caroute N300 is extremely easy to use. 
7 Best Saltwater Trolling Motors
In this section, we've reviewed our best fits for saltwater to assist you in analyzing the features, specifications, functions, and performance. As a result, you can quickly decide which is the right fit for your boat. Let's see what these motors are-
Comparison Table
1. Minn Kota Riptide1363742 Terrova for Saltwater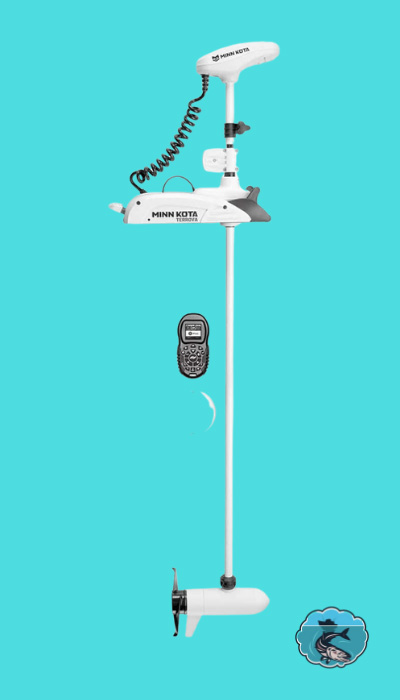 The Minn Kota Riptide trolling motor features the most-trusted GPS technology to ensure a smooth fishing process. It is designed to fight against the harsh conditions of brackish and saltwater. This riptide trolling motor is equipped with spot lock technology.
The Minn Kota is designed to record paths which is a great advantage for professional anglers to detect more fish.  Controlling the boat's speed and steering will also be under your control.
Why Do We Choose It?
The most trusted trolling motor that provides a high-end GPS for fishing. The Minn Kota Riptide 1363742 is the top professional choice due to its well-updated features.
When you want to be on the exact site of the school of fish, the Minn Kota ensures that possibility with an i-pilot-controlled GPS. So, the i-Pilot can make automatic control and positioning of the boat. 
Key-Features
Digital Maximizer
In terms of its digital maximizer, you can control the boat at any speed. Getting accurate power and speed will help you save the battery charge, and your motor battery charge will sustain up to 5 times longer.
Perfect Shaft Length 
Although the 72″ shaft looks a bit longer at first, you'll benefit greatly while fishing in the ocean water at the end of the day. With this shaft length, you can fish in the backside of your boat, but the motor won't cavitate in the ocean's rough water. 
LCD Screen
The easy-to-read LCD screen is another significant feature to easier your way to make commands. 
Pros 
Runs perfectly against strong wind and current
Offer a productive fishing experience
Premium-quality aluminum material
Cons
2. Newport Vessels L-Series Trolling Motor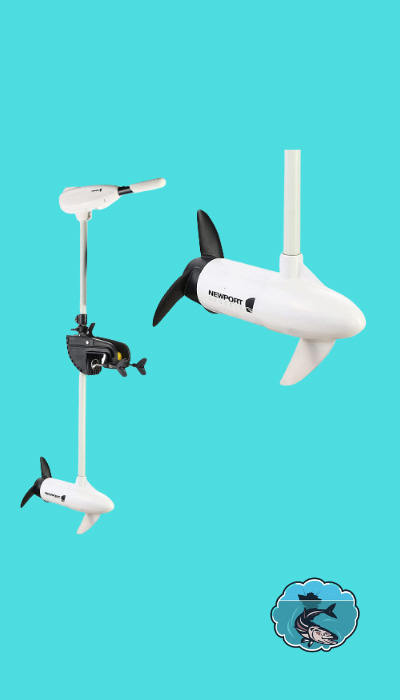 The engine option of Newport Vessels of L-Series will be the best option for small boats. All kinds of small inflatable boats like kayaks will suit it nicely. This L-series Newport trolling motor is manufactured with high-quality saltwater corrosion-resistant materials.
And these materials are sacrificial zinc anode, stainless steel, fiberglass shaft, and nylon propeller.  Because of its robust trait, you can throw it anywhere you want, and it will stand up perfectly. 
Why Do We Choose It?
It is designed with strong materials to offer the maximum life span. With its 40″ fiberglass composite adjustable shaft, the motor can fit small inflatable boats and all kinds of transom-mount boats, sailboats, Jon boats, bass, and your watercraft. This one tool can meet your several requirements. So, Why Not Newport?
Key-Features
Efficient Power
For any level of boater, the Newport motor delivers excellent efficiency and power. It never creates any noise to spook fish. Also, there's no overheating issue with it. 
Speed
It offers the highest speed of 4.5 mph which will enable you to set your required speed level based on weight, shape, wind, and water types. To move the boat with ease, it has a great 3-blade propeller. 
Secured Battery Protection
A 50 AMP circuit breaker is included with the Newport, so the motor battery can remain protected from any damage from voltage surges. There's no battery vandalization risk.
Pros 
Extremely lightweight design with only 5.88 lbs
2-years of the manufacturer's warranty
6-inch exclusive telescoping tiller handle
Cons
The Newport won't come with an included battery. You have to buy the battery separately. 
3. MotorGuide Xi3 Wireless Trolling Motor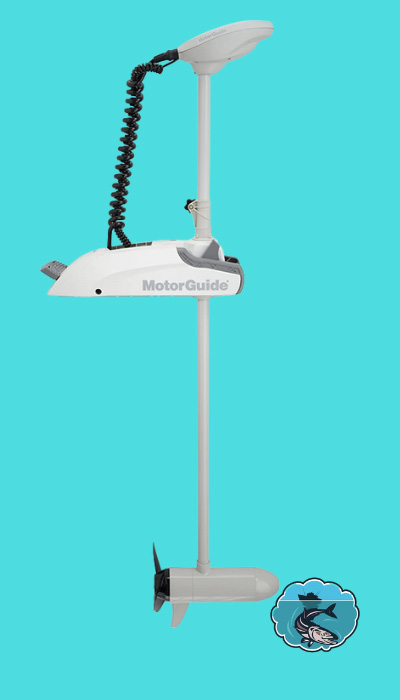 The wireless MotorGuide Xi3 has the highest convenience and simplicity. It plays trouble-free for both the new anglers and pros. The high-tech integrated sonar, onscreen control display, and advanced GPS options are available to deliver good freedom of total control. 
The Xi3 is designed with a 60 inches shaft length and 70 lbs thrust along with a Machete propeller of 3-blade for top performance. This Xi3 24V motor can get the highest draw of  42 amps. 
Why Do We Choose It?
The MotorGuide Xi3 delivers a wide range of functionalities with unique fishing styles. It suits a large number of professionals and their fishing techniques. Considering the power, steering, thrust, and shaft length, you can operate the boat at any convenient method. 
The Xi3 has featured an easy-to-read innovative LED dashboard. As a result, you can quickly and easily check the status of the 4-key function in any condition.
Key-Features
Wireless Control
Its remote-control steering doesn't require any settings and allows you to use the remote control right after unboxing it. Also, you can use its wireless foot pedal controlling system.
Pinpoint GPS
The advanced Pinpoint GPS is fit for cruise control, heading lock, and outstanding anchoring. You can operate it noiselessly. 
Easy Stowing & Deploying
A SecureStep system is featured to ensure easy deploying and stowing. It will be easier to step into the release lever and deploy the motor into the water. 
Pros
Powerful navigation system
Great propeller
Outstanding combination of thrust and shaft
Cons
4. Watersnake T18 ASP Electric Saltwater Trolling Motor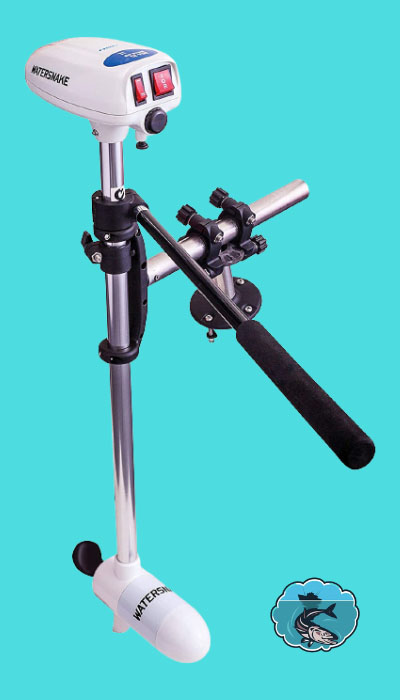 The Watersnake T18 ASP trolling motor has a stylish and compact design that incorporates an ergonomic and thicker grip. You can get full control over the motor with the exclusive tiller handle.
The meter display of the digital voltage includes another extra level of facilities so that you can track the present condition of the battery. It's easy and highly secured to attach the motor to the boat in terms of its transom mount alloy and the multi-tilt positioning bracket.
Why Do We Choose It?
The most versatile and portable trolling motor is the Watersnake T18 ASP. It weighs only 4.85 lbs for easy portability to any convenient fishing zone. To get high performance, you can choose this top-quality trolling motor without any doubt. 
Key-Features
Compatible with Inflatable Boats
For all sorts of small and inflatable boats, the Watersnake is an excellent motor with its simple design and high-performed quality.
Multi-Featured Speed Control System
This motor has forward and reverse modes with a high and low-speed switching control system. It has an extendable handle with a weedless propeller design. 
Pros 
Super portable for its lightweight design
Easy to install and operate
Requires very less amount of energy
Hassle-free to store
Cons
The motor battery isn't included
5. Caroute N300 Electric Boat Trolling Motor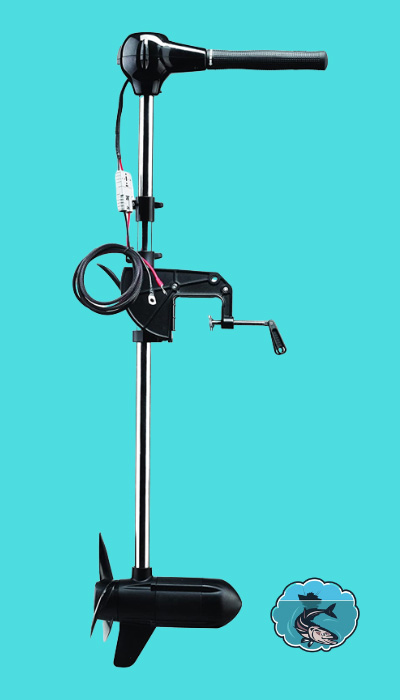 For boats like sailboats or dinghies, which are designed with up to 3 tons, the Caroute N300 motor will be the perfect fit. It can power the motor with a 2000-watt input and maximum thrust level.
The Caroute is compatible with the petrol outboard of a 7-HP.  It comes with greater speed and more thrust. Also, it delivers ultra-long running time.
Why Do We Choose It?
Its stainless steel shafts and aluminum transom mount trait can resist all kinds of impact without any corroding, bent, or breaking.  The Martyr anodes ensure the utmost protection against rough saltwater corrosion. As a result, the motor can last for a long time. 
Also, the N300 is an environment-friendly trolling motor with high efficiency and less energy consumption. So, it contributes to consuming less energy for any distance. 
Key-Features
Propulsive Power Design
The Caroute trolling motor has a propulsive power design that will allow you to achieve 65% more effectiveness. It's well capable of operating at superior speeds compared to gasoline or conventional electric motors of the same thrust.
Less Maintenance
Low maintenance and longer life span of the N300 attract many professionals' attention. Quieter operation and less battery charge consumption will surely add an outstanding experience to your trips. 
Unique Brushless Technology
The brushed trolling motor consumes more power which leads the motor to wear out so easily. But, the N300 is a completely brushless motor. More reliable and stable electronic circuits generate this device. So, there's no risk of the motor being worn out before the expected time. 
Pros
It can produce 7 MPH at the maximum speed.
Capable to delivers higher torque at lower battery current
Various FWD/REV speed levels
Depth adjustable motor collar
 Cons
No warranty will be available
6. MotorGuide Xi5 Saltwater Trolling Motor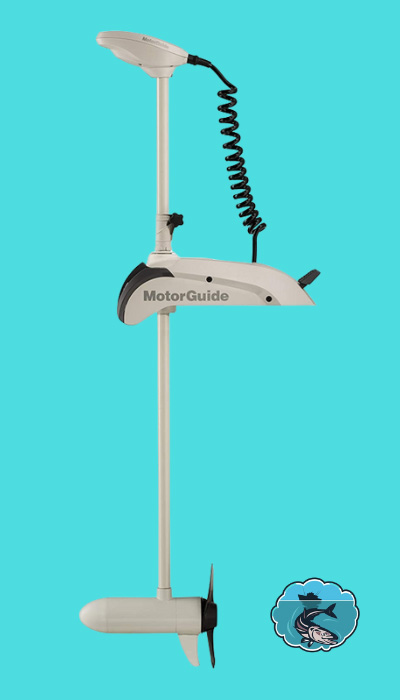 To get total control of your boat, the MotorGuide Xi5 is right here for you. Its wireless GPS with foot pedal operation is the key-factors in choosing it for the fishing job. You can operate it from sitting anywhere on the boat.
A unique high-responsive electric steering ensures quiet and 50% faster total steering rotation. It provides unlimited convenience and simplicity until you leave the water.
The corrosion-resistant anodized materials of aluminum and the stainless steel hardware components included a highly durable linkage. 
Why Do We Choose It?
This motor has wonderful deploy and stow system guides and aligns that will help you stow the motor in the right position with full security and safety. You'll be able to use the Xi5 for added safety and security.
So, there's no possibility of getting any potential damage or unintentional deployment because the Xi5 uses a secondary lock to lessen unexpected damage or deployment.  
Key-Features
Composite Shaft Length
The MotorGuide Xi5 has a sturdy and 54 inches long composite shaft to protect your motor from breaking or bending. It can withstand strong substances like stumps and rocks. Therefore, the motor will remain well-protected from being damaged. And also ensure longevity. 
Wireless Controlling 
A wireless controlling system will allow you to handle the entire operating system much more precisely than a wired motor. You don't have to be in a specific place to command or steer the motor.
So, operating the trolling motor from anywhere on the boat adds an extra facility for the anglers to concentrate on fishing more.
Versatile Aptitudes
For the boat length from 14 feet to 18 feet, this 12V motor can have the highest amps of up to 52 amps. Besides, it adds more convenience to unlock your day-long fishing limitation without any technical interruption.
Pros
Fully protected with sealed corrosion protection.
Designed with a built-in LED dashboard and 2D sonar
5 times longer longevity than the ordinary motors
Digital power management technology
Cons
Check out the battery before you buy. Sometimes, the battery comes with fast charge-draining problems. But it's a rare case. 
7. Newport Vessels X-Series Electric Trolling Motor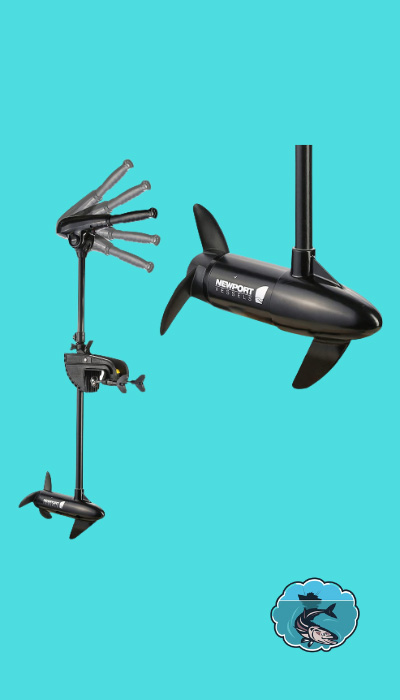 The X-series model of the Newport Vessels trolling motor came with a versatile design and high-quality materials concepts. It is manufactured with 55 lbs thrust and a 12V battery to provide outstanding efficiency and power for any professional or new anglers.
It comprises high-quality components to run the Newport X-series for the whole day. Which will neither be overheated nor make any loud noise. For making a silent operation on a rough water surface, the Newport Vessels are one of the top motors.
Therefore, you do not have to worry about spooking the fish while trolling and moving to different potential fishing zones.
Why Do We Choose It?
Control of the speed according to the fishing zone and situation is critical to ensure productive fishing. You must make sure your trolling motor has a different speed level to dial your required one.
The Newport X-series will offer amazing features with 8 multi-level speed compatibility with 5 FWD/3 REV speed modes. So, when which speed to select is completely under your control. And it will lead you to gather an excellent fishing experience with a 2 years warranty.
Key-Features
Excellent Features Combination 
The Newport can be a good example for professionals to get all the advanced features in one device. It offers all the multi-functional features,
for example, a 6-inch tiller telescoping handle, 10 LED battery meters, 3-blade high-end propeller, 30° adjustable head, 36-inch fiberglass long shaft, and many more.
And a trolling motor with all these features is well-capable in delivering outstanding performance in any water surface, current, wave, or wind situation. 
50 AMP Circuit Breaker
The voltage surge can damage the trolling motor battery. However, the Newport Vessels is included with a 50 amp circuit breaker and will protect the battery from any sudden electrical damage. So, don't forget to connect the breaker.
Strong Materials
This motor is made of high-quality, robust materials with zinc hardware, magnesium, and stainless steel. So, it withstands any water environment of saltwater and freshwater. 
Pros
4 feet long and adjustable battery cable
Super-performed fiberglass propeller
Highly durable composite shaft
Corrosion-resistant powder coating
Cons
Lifting it to a convenient place is a bit tough because of its heavy weight.
Best Saltwater Trolling Motor: Buying Guide
Trolling motors for saltwater are essential for fishing effectively alone in a mangrove's coastline or inshore saltwater. Therefore, you need to chase the right trolling motor that is high-end to fit saltwater. Here are some important factors you should think about before purchasing one-
Battery Life
Running out of battery charge is one of the most irritating situations when you're in the middle of your way. Checking out whether the battery charge lasts for a long time is a must-do task for you.
Some of the motor's batteries can run the whole day with only a single charge. You should choose them. Each top pick has a battery that doesn't drain the charge so fast. Check them out carefully.
Motor's Operation Noise
No anglers want to spook fish, as catching fish is their only wish, so make sure the motor operates quietly. Noiseless operation is another important factor you should check before buying your trolling motor.
Thrust
You'll need sufficient thrust when moving the propeller in a different direction. Trolling motor with enough thrust will be your right choice. 
Battery Cable length
If the distance between the trolling motor and the battery is long, buy an extended battery cable. It will help you cover the distance with ease.
Also, check whether the trolling motor is designed with a circuit breaker. Or else, wiring the long-distance battery cable will be risky and cause an overheating issue.
Additional Propeller
Having an additional propeller for the saltwater trolling motor is another significant factor. A propeller can be broken or damaged due to running over stones or hard surfaces. In that case, keeping an extra propeller with you will help you change in minutes.
So, a trolling motor that comes with an extra propeller should get an extra level of priority. 
Is A Saltwater Trolling Motor Worth It
If you're a freshwater angler, you have nothing to be so serious about the corrosion. But, fishing in saltwater requires a high-quality corrosion-resistant trolling motor because the salt water and brackish water are extremely corrosive. So, when buying your trolling motor, you must ensure it is designed for saltwater. 
A saltwater trolling motor is handy to reel in big fish, but you won't be pulled out to the ocean or sea. It will allow you to keep complete control over the movement of the boat. 
Is It Ok To Use A Saltwater Trolling Motor In Freshwater
Freshwater trolling motors aren't compatible with saltwater because these motors aren't corrosion-resistant. As a result, it harms the trolling motor when you use a freshwater trolling motor in saltwater.
But no harmful substances like salt are available in freshwater that can damage the saltwater trolling motor. In that case, you can use your saltwater trolling motor in freshwater trouble-free. 
FAQs
Is there a difference between saltwater and freshwater trolling motors?
Yes, there are some significant differences between these trolling motors. Two of these motors are designed with metal parts, and the function of these metal parts makes the difference. The freshwater is designed with the metal part to such simple alloys for making it a functioning tool. 
Saltwater trolling motor, on the other hand, uses corrosive-resistant metal with heavy paint coating to resist the motor from being damaged.
What happens if you use a freshwater trolling motor in saltwater?
The freshwater trolling motors are designed with a very light paint coating that cannot resist the motor from corrosion. If you use a freshwater trolling motor in saltwater, it will damage the motor gradually. So, we don't recommend using a saltwater trolling motor. 
How do I protect my trolling motor from saltwater?
You should always use the saltwater-compatible trolling motor. And it will allow you to use the motor for the long term.
Can I use my Minn Kota in saltwater?
It depends on which model you have chosen. Some of the models of Minn Kota are saltwater compatible and some are freshwater. Choose the model manufactured for saltwater, like Minn Kota Riptide 1363742.
What side of the boat should the saltwater trolling motor be on?
You should decide where to put the motor on your boat depending on how you will operate the boat. If you steer from the port side of the boat, mount the trolling motor on the starboard side, and it will improve visibility. 
Final Thoughts
The saltwater trolling motors are designed considering various factors like mounting type, boat type, etc. So, if you have a bow-mount trolling motor, you have to buy a saltwater motor that is designed for a bow-mount system.
It's essential to consider all the aspects of your boat to choose the best saltwater trolling motor.