Having experimented with a few different types of boats, starting from kayaks to ski boats, I've learned that the best trolling motor for the money on the market may not always be the best for your boat.
Whether or not the affordable fan favorite is the one that suits you depends on what type of boat you use for trolling. 
So I've done my research and gathered opinions from experienced anglers on what type of trolling motor works best for which kinds of boats.
Your trolling preferences will determine the best match for you. Here's a guide to help you decide, so you don't have to waste your money on the wrong choice. 
Editor's Choice 
Before you dive into a more personalized analysis, here are some of my favorite picks for a few different kinds of angling needs on a budget. 
Top Pick:
Newport NV-Series Saltwater Electric Trolling Motor 
Saltwater compatible, made of stainless steel and magnesium hardware
Works great on freshwater as well
The transom mount makes it perfect for lighter boats without a deck
36lbs of thrust provides a smooth glide on the water
Fully adjustable 30" shaft made of composite fiberglass
3 reverse and 5 forward speeds
Budget Trolling Motor With Spot-Lock: 
MotorGuide Xi3 Freshwater Trolling Motor
Bow mount, perfect for most boats
Suitable for freshwater anglers
55lbs of peak thrust
48-inch shaft length makes it great for deeper waters
Completely wireless
Pinpoint GPS, perfect for spot lock
3 Blade Machete Propeller provides a very quiet experience on the water
Budget Transom Mount Trolling Motor: 
Minn Kota Endura C2 30 Trolling Motor
Transom mount with lever lock bracket with quick release
Made of reinforced composite material, resistant to UV damage
Tiller steering
Power prop and 30 lbs of thrust give you speed on the water
5 forward and 4 Reverse speeds
20" shaft, perfect for lightweight boats
Affordable
Budget Trolling Motor For kayak: 
Newport Kayak Series Saltwater Electric Trolling Motor
Newport's best bet for Kayaks
Transom mounted
24" inch shaft is perfect for low depths
Built for saltwater, resistant to corrosion
5 forward and 3 reverse speeds
Cable steering
Quick Product Comparison Table
Here's a quick comparison chart for you to compare the choices you might be a little confused about. 
| | | | | | | | |
| --- | --- | --- | --- | --- | --- | --- | --- |
| Features | Newport NV | Minn Kota Endura  | Newport Kayak  | Watersnake Tracer | Watersnake Venom | Goplus  | MotorGuide Xi3 |
| Mounting Type | Transom-mount | Transom-mount | Transom-mount | Transom-mount, Bow | Transom-mount | Transom-mount | Bow-mount |
| Thrust | 55lbs | 30lbs | 36lbs | 30lbs | 34lbs | 46lbs | 55lbs |
| Weight | 23.2lbs | 15lbs | 20lbs | 22lbs | 19.7lbs | 46lbs | 41 lbs |
| Voltage | 12V | 12V | 12V | 12V | 12V | 12V | 12V |
| Speed | 5 forward, 3 reverse | 5 forward, 3 reverse | 5 forward, 3 reverse | 5 forward, 2 reverse | 5 forward, 3 reverse | 5 forward, 3 reverse | variable |
| Shaft Length | 30" | 30" | 24" | 30" | 30" | 36" | 48" |
| Control Option | Tiller handle | Telescoping Tiller | Telescoping handle | Tiller handle | Telescopic Tiller | Telescopic Handle | Wireless remote control |
| Brushed or Brushless | Brushed | Brushed | Brushed | Brushed | Brushed | Brushed | Brushed |
| Saltwater/ Freshwater | Both | Freshwater | Both | Both | Both | Both | Freshwater |
| Propeller Size | 3-blade | Power prop | 3-blade | Weedless 2 blade | Weedless 2-blade | 2-blade | 3-blade machete |
| GPS | N/A | N/A | N/A | N/A | N/A | N/A | Pinpoint GPS |
Top 7 Best Trolling Motor For the Money
While a lot of anglers might be raving about the coolest new electric motor on the market, the ones with all the cool new features and perks can put a dent in your wallet.
For newer anglers or those of you with a budget, the best choice might just be something completely different. 
So keeping that in mind, I've prepared a list of the best value trolling motors you can get, for different kinds of preferences. Let's check it out! 
Newport NV- Series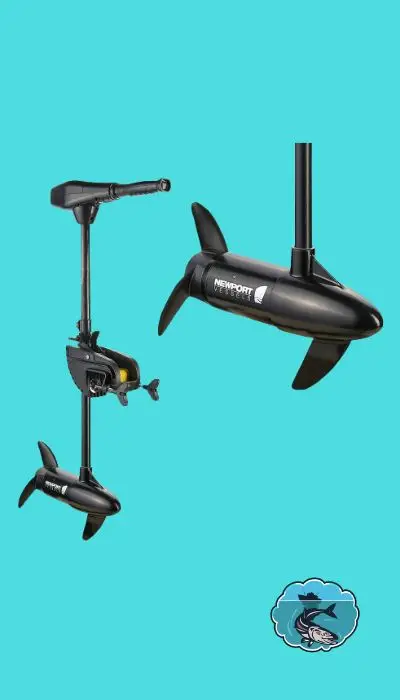 The Key Features and benefits a user will enjoy with this motor:
8 Speeds with Speed Adjustment: 
The NV Series Trolling Motor features eight speeds with "precisely delineated speed transitions", allowing you to choose the precise speed you need for your boating conditions, along with the 5 forward speeds and 3 reverse speed options.
This allows for greater control and maneuverability, especially in challenging or changing conditions such as wind or current.
Durable and Corrosion-Resistant: 
The NV Series Trolling Motor is built with high-quality materials that are designed to withstand harsh marine environments. It features a stainless steel shaft, zinc, and magnesium anode, and a fiberglass composite shaft that is corrosion-resistant and durable.
This ensures that the motor will last for many years and requires minimal maintenance and is suitable for both saltwater and freshwater. 
The NV Series Trolling Motor features an LED battery meter that displays the remaining battery life, allowing you to monitor your power supply levels and prevent the motor from stalling due to a low battery.
This can prevent accidents or delays on the water and ensure that you always have enough power to complete the trip.
The NV Series Trolling Motor is designed to be quiet and efficient, minimizing noise and disturbance to marine life and other boaters.
The motor is also energy-efficient, helping to conserve battery power and extend the life of the battery. This can save you money on fuel costs and reduce their environmental impact.
Why Did I Choose It?
The Newport Vessels NV series has one of the best budget-friendly trolling motors out there. It's great for lighter watercraft like inflatable dinghies, flat-bottom boats, Jon boats, etc. For the price point, it provides a great experience.
 It's smooth and fast on the water, and at just 23 lbs it's great for lightweight trolling. The shaft is adjustable and is built to fit most small boats and the build quality is pretty amazing.
You can expect this one to last you for a long time. And if you do end up facing problems now and then, their customer service is top-notch! 
Pros 
Great value for money
Easy to use
Durable build
Quiet and smooth on the water
Long-lasting battery
Amazing customer service
Cons
Might be too fast for freshwater trolling or slow troll
Upgrading to a higher voltage doesn't make much of a difference
 Minn Kota Endura C2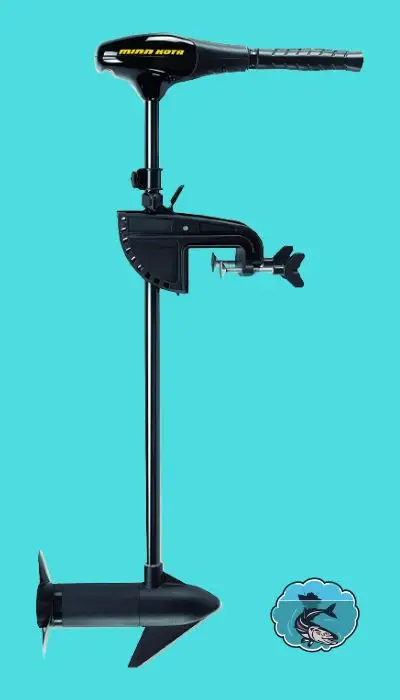 The Key Features and benefits a user will enjoy with this motor:
Indestructible Composite Shaft: 
The Minn Kota Endura C2 features an indestructible composite shaft that is guaranteed for life. This makes the motor durable and reliable and helps to ensure that it lasts for many years.
The composite material also helps to reduce the motor's weight, making it easier to handle and maneuver.
This motor is designed to be cool and quiet, reducing noise and heat emissions. This makes the motor more comfortable to use and helps to extend the life of the motor.
The motor also has a maximizer feature that allows you to conserve battery power, making it more efficient and reducing the need for frequent recharging.
The lever lock bracket provides a secure and easy-to-use mountain system for you. It's adjustable and features a quick-release lever that allows you to easily remove the motor for storage or transportation.
There's also a tilt feature that allows you to conveniently adjust the angle of the motor according to your needs on the water. 
Why Did I Choose It?
The Minn Kota Endura C2 is a name trusted by hundreds of anglers around the world. It's one of the most popular transom-mount options out there. The Minn Kota brand is renowned for its trolling motors, and this is one of their more budget-friendly options.
My favorite part about this motor is its power prop. With its 3-¼" motor diameters, it is super powerful and can get through weeds and other vegetation without any hassles. It's reliable and quiet as well. 
Pros 
Comes fully assembled
Very lightweight, perfect for beginners
Long battery
Smooth mounting and tilting
Fast pace
Cons
Customer service isn't responsive
The transducer might not fit on the short foot if you want to add one
Newport Kayak Series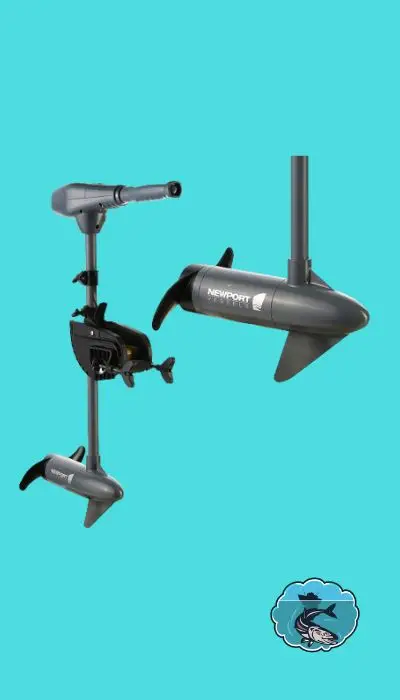 The key features and benefits a user will enjoy with this motor:
This telescopic handle can be adjusted to provide a comfortable grip and easy control of the motor, reducing strain on your arms and shoulders.
This feature also allows for more precise steering and speed adjustments while maintaining a comfortable position in your kayak.
Designed Specifically for Kayaks
As the name suggests, this "shallow water sniper" is great for shallow water trolling and it allows you to get super close to the fish, without scaring them away.
You can sit at ease on your kayak and quickly maneuver to your favorite fishing spots without having to put in any work. It's quick, easy, and convenient. 
Why Did I Choose It?
If you're a fan of trolling on your kayak and enjoy the low-lying activity as you get up close and personal with shallow-water fish, then this model is the one for you! 
It provides a great experience compared to much more expensive trolling motors and its 23″ shaft length allows for variable depth placement, making it easy to traverse in shallow waters. 
It's also made of an aluminum motor head with corrosion-resistant magnesium, zinc, and stainless steel hardware making it perfect for saltwater use. 
Pros 
Variable speed control allows for easy speed adjustments 
Lightweight and durable construction makes it easy to handle and maneuver
Extendable handle 
Suitable for shallow or calm waters and ideal for fishing
Quiet and won't scare fish away
Amazing Newport Vessels customer service
Cons
The mounting bracket is larger than other motors
The control unit is not waterproof
Watersnake Tracer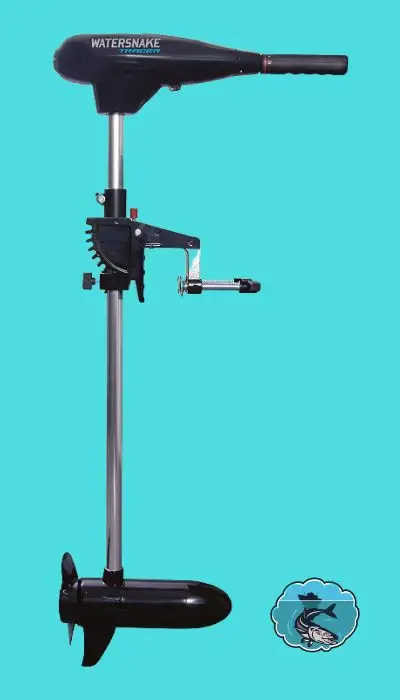 The Key Features and benefits a user will enjoy with this motor:
The Watersnake Tracer Transom Mount Trolling Motor comes equipped with a digital voltage meter that provides real-time information on the battery's charge level.
This feature helps you keep track of the remaining power, preventing you from getting stranded in the middle of the water.
This motor features a weedless propeller design, which helps to prevent entanglement and damage when navigating through weeds or other aquatic plants.
This feature saves you time and effort by reducing the need for frequent stops and cleanups.
Adjustable Transom Bracket: 
The adjustable transom bracket allows you to adjust the motor's height and angle, providing greater control and maneuverability. This feature allows you to customize the motor's position to match the water conditions and your preferred boating style.
Why Did I Choose It?
Overall, the Watersnake Tracer Transom Mount Trolling Motor is a cost-effective and reliable choice for those who value performance and functionality over brand name or prestige. Its digital voltage meter, weedless propeller, and adjustable transom bracket make it a reliable and efficient option for navigating through various water conditions. 
Additionally, its durable and lightweight construction, easy installation, and low noise output make it a practical and convenient choice for anglers and boaters who want to enhance their boating experience without breaking the bank.
Pros 
Weedless props
30-inch telescopic chrome plated steel shaft
Extendable tiller
Great for saltwater and freshwater
Long-lasting battery if you go slow
Light-weight
Cons
Might not be that durable, some anglers have complained of parts breaking
Can be a little too slow for some users
Watersnake Venom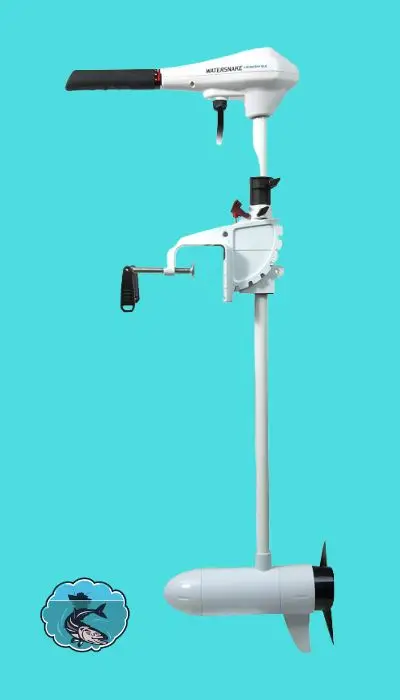 The Key Features and benefits a user will enjoy with this motor:
The Watersnake Venom SXW range comprises five motor designs, ranging from 34lb to 54lb in thrust and 26″ to 42″ in shaft length, making it a versatile option for various types of boats and water conditions.
The motor comes equipped with a weedless propeller design made of stainless steel shafts, which allows for smoother navigation even in dense weed conditions.
Stylish and ergonomic design: 
The compact and stylish motor head design includes an ergonomic grip for the tiller handle, a digital voltage meter display, and upgraded alloy transom mount grips, making it easy to attach and secure the motor.
Additionally, the telescopic tiller handles provide greater comfort and control.
Why Did I Choose It?
This one's another amazing saltwater trolling motor that works great with Kayaks and other low-weight watercraft. Not only is this great for trolling, but you can also simply use it as an electric motor to drive you around on your kayak.
The price is amazing for the features it provides, and in my experience, it's a pretty smooth ride. Its stainless steel shafts make it ideal for navigating through dense weed conditions, while the ergonomic and stylish design, including the digital voltage meter display and telescopic tiller handle, provide ease of use and greater comfort and control. 
Pros 
Amazing battery life
Great build quality for the price
Powerful
Easy to install
Compact and heavy
Fast customer support
Cons
Might be a little noisy; vibrates
The propeller can be flimsy
Goplus Electric Trolling Motor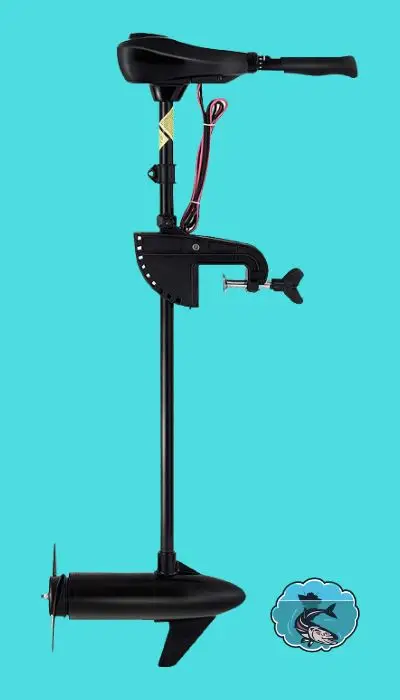 The Key Features and benefits a user will enjoy with this motor:
The Goplus Electric Trolling Motor is built to last with its glass fiber composite rods and durable die-cast aluminum heads. Thanks to the reinforced composite materials used in its build, it is very resistant to corrosion and sun damage, and can even resist bending and warping.
This not only makes it great for saltwater use, but also durable in the long run. 
The motor features an adjustable handle that can be tilted up and down to ensure optimal angle and comfort while steering the boat. This feature allows you to steer the boat with ease and comfort, even for extended periods, reducing strain and fatigue on your arms and hands.
Additionally, the handle can be extended to provide more leverage when steering the boat, making it easier to control in challenging water conditions.
Why Did I Choose It?
While Goplus might not be the frontrunner in trolling motors, their electric trolling motor provides great value for money. I especially liked the adjustable shaft on this motor along with the tilt mechanism of the mounting bracket, because it allows me to steer however I want by just the height and the angle.
The battery on this is amazing as well and of course, you can use it in both saltwater and freshwater due to the sturdy materials it's made of.
Pros
Easy to use
Reliable
Can handle a lot of weight
Great value for money
 Quiet
Great for both saltwater and freshwater use
Cons
Vibrates
Height adjustment screws aren't of good quality
MotorGuide Xi3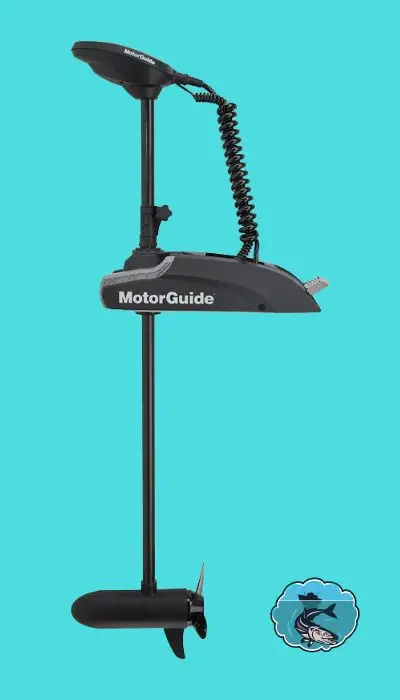 The Key Features and benefits a user will enjoy with this motor:
The Motorguide Xi3 features built-in GPS technology that enables you to set and save fishing spots, waypoints, and routes. This allows you to easily navigate back to your favorite fishing spots and cover more water with precision and ease.
The GPS also features anchor mode, which uses satellite positioning to keep your boat in a fixed location, making it easier to fish in windy or turbulent conditions.
If you're not a huge fan of the hand control on the tiller handles, the Xi3 comes with a wireless remote control that allows you to operate the motor from anywhere on the boat.
The remote control features intuitive controls for speed, steering, and anchor mode, as well as advanced features like heading lock, cruise control, and GPS anchoring. 
With the Xi3 you get a LED dashboard that displays key information about the motor's performance and battery life. It displays the current speed, remaining battery life, and other important information that can help you optimize your fishing strategy.
The dashboard is also backlit, making it easy to read in low-light conditions. Additionally, the dashboard has an indicator light that alerts you when the motor is in anchor mode or GPS mode, so you can easily monitor the motor's status.
Why Did I Choose It?
If you're willing to spend a bit more on a greater trolling experience, then the Xi3 is perfect for you. Compared to all the others in this list, this trolling motor is more comparable with the higher-end models you will find.
It comes with a GPS pinpoint system that allows you to only anchor the lock in one position but also use a heading lock.
While the price point is a bit higher than the others, the features you get are worth it. Great for those of you who want a bow mount.
Pros 
Quiet
Anchor point
Easy stow and deploy
3-blade machete propeller
Heading lock feature
Advanced features
Bow mount
Cons
For freshwater only
Strong currents might be too powerful for the motor
Customer support isn't great
How To Choose The Right Trolling Motor For Your Boat
Now that you've gone over some of the best cost-effective trolling motors out there, how do you choose the right one for you? Here are a few factors to consider before making that choice. 
Boat Type 
The first deciding factor as to which trolling motor is the best for you, is obviously what type of boat you use. Not all motors work with all boats, and the wrong choice can make or break your trolling experience.
Whether your boat has a deck, whether you need a transom mount motor, or whether your boat can handle the weight of the motor will all decide what type of motor you should get. 
Since Pontoons are heavy, weighing anywhere from about 1500 lbs to 5000 lbs or more, the Motorguide Xi3 is the best option for a Pontoon. It's powerful and has a bow mount perfect for the front of your Pontoon.
You might even consider the Newport NV series with 55 lbs of thrust as you can use a transom mount with a pontoon as well. 
For a Jon boat, the Minn Kota Endura C2 would be a good option to consider as it is transom-mount and provides reliable thrust power for smaller boats. You also get the 30″ shaft length, which is suitable for the low height of Jon boats. 
Inflatable boats are super light and work well with transom mount motors. You can check out the Newport Kayak or the Minn Kota Endura C2 for this one. 
For paddle boats, the ideal trolling motor would be lightweight with a low thrust rating and can be easily mounted on the boat. Since these types of boats aren't meant to carry trolling motors, it would be impossible to use a bow mount.
The Newport Kayak Series Trolling Motor or the Minn Kota Endura C2 would be good options
The ideal trolling motor for bass boats would be one with a high thrust capacity, precise control, and quiet operation to avoid spooking fish, i.e. the Xi3 or the Watersnake Tracer. 
Ski boats require a lot of thrusts, so it's best if you use a larger, more powerful engine such as an inboard or outboard motor. However, you can try to use the bow mount Xi3 with your Ski boat for trolling purposes. It might not be fast enough for skiing. 
For a deck boat, the Motorguide Xi3 would be a great option. It is wireless remote and GPS features would provide greater control and precision for navigating in various water conditions.
Additionally, its mount-style and composite shaft would make it durable and able to withstand the demands of a larger boat.
For a kayak boat, the best trolling motor option would be the Newport Kayak Series. It is specifically designed for kayaks and is lightweight at only 19 pounds, making it easy to maneuver and transport.
It has a transom mount style that is easy to install and remove and offers up to 55 pounds of thrust. 
For canoes, you can get away with the Newport Kayak Series, as canoes are pretty similar to kayaks. They are lightweight but can be a little heavier than Kayaks. But they should still work well with the Kayak series. 
Mounting type
What type of boat you use will determine the mounting type you require. If you have a front deck, then getting a bow mount like on the Xi3 will be the best for you.
For other boats like a Kayak or any boat with a transom, a transom mount option like the Watersnake Venom or Goplus is better. 
How Many Pounds Of Thrust Should A Trolling Motor Have?
Your trolling motor should have enough thrust to support your boat's weight. For every 100 lbs of a fully loaded boat, you'll need 2 lbs of thrust.
So if you have a lighter boat like a kayak that weighs about 100 lbs or less ( without gear weight and your weight), you'll be fine with 20-40 lbs of thrust. 
Weight
The weight of a trolling motor itself can also affect your performance on the water, especially on lighter watercraft. If your boat is very light, then even a slightly heavy motor with a heavy battery and gear can be too much for your boat. 
Voltage
Most trolling motors come with a standard 12V battery. There are other options as well for more powerful motors such as 24V and 36V batteries. While a higher voltage can mean a longer and faster performance, that also means a heavier battery.
So it's best to opt for a lightweight 12V battery for the most affordable motors. 
Speed
When it comes to speed, the faster you want to go, the higher thrust options you should look at. But depending on what kind of fish you like to troll, whether or not you're gonna enjoy fast speeds or a slow crawl will vary.
Most decent motors like the Minn Kota Endura C2 or the Newport Kayak will give 8 different speeds. If you want more control, then you can try the Xi3. 
Shaft Length
Getting an adjustable shaft is probably the best way to go, as you can adjust the length according to your conditions. Your lower unit must be submerged at least 12 inches in the water.
So when measuring what length you need, remember to keep that in mind. Too long and the shaft will hit obstacles, too short it might make the boat cavitate. 
Control option
How you like to control your trolling motor comes down to preference alone. Nothing else. If you like telescopic handles, then there are a lot of affordable options like the Watersnake Venom or Tracer, or even the Goplus. It's cheap and effective.
But if you want the ease of remote control, you might like the Xi3 more, even though it's slightly more expensive. 
Brushed or Brushless
If you want an economical trolling motor, you will probably have to settle for your regular brushed trolling motor. They work well enough for most anglers but are a little bit noisy.
But brushless motors are significantly quieter but more expensive. If you're a more experienced angler and aren't hesitant to invest, then you can check out higher-end options with brushless motors. 
Saltwater or Freshwater
As a rule of thumb, most trolling motors built for saltwater can easily handle freshwater, but not the other way around. Saltwater is a bit harsher on the motor and can easily corrode it.
Therefore extra protection is required. If you don't plan on trolling in saltwater, a simple freshwater motor like the Xi3 is good enough. But if you plan to switch and try out different waters, then something like the Newport NV series might work better for you. 
Propeller Size
The size of your propellers might seem like a minute detail at first, but it can affect the motor's efficiency and power. Larger propellers are usually more powerful but can be hard to maneuver in hard places.
On the other hand, smaller propellers are great for tighter spaces and will probably get caught less, but you have to sacrifice a little bit of power for that. 
GPS
If you're on a budget, GPS might be one feature you can skip. As you can probably tell, most of the budget options don't offer amazing GPS or fishfinder tech. For beginners and casual anglers, this isn't much of a problem. 
But if you want the facilities of anchor lock, route tracking, autopilot, etc and a GPS is essential for you, then Xi3 or other higher-end options might be better for you, as long as you have the money to spare. 
How To Care For Your Trolling Motor
Proper care and maintenance of your trolling motor can help ensure that it lasts for many years and operates smoothly when you need it. Here are some tips for caring for your trolling motor:
Rinse the motor after each use: 
After each use, rinse your trolling motor with fresh water to remove any dirt, debris, or saltwater that may have accumulated on the motor. This can help prevent corrosion and other damage. 
Refer to your manual for this step, however. Some motors require you to clean them with water, especially after saltwater use. Others however recommend that you don't use water and use a dry fiber cloth instead. 
Check the propeller regularly: 
Check the propeller for damage or wear and replace it if necessary. It's very common for weeds and other debris to get stuck on the blades. So give it a good clean after every use.  A damaged propeller can cause the motor to vibrate or not operate properly. 
Lubricate the moving parts of your trolling motor regularly to keep them operating smoothly. This includes the propeller shaft, gears, and other moving parts. This not only makes operation smoother but can also help reduce noise. 
Store the motor properly: 
When not in use, store your trolling motor in a dry, cool place. If you're storing it for an extended period, disconnect the battery and store it separately. Don't keep it lying out in the sun for long periods, as it can cause UV damage. 
Check the battery regularly: 
Check the battery for damage or leaks, and charge it as needed. A properly charged battery can help ensure that your trolling motor operates at peak performance. Try cleaning the terminals with a soft cloth to prevent rust and corrosion. 
Follow the manufacturer's recommendations: 
Finally, it's important to follow the manufacturer's recommendations for care and maintenance. This may include regular servicing or other specific instructions for your particular motor model.
FAQs
How much does a trolling motor cost?
A trolling motor can cost you anywhere from about a few hundred USD to 3-4 thousand USD. It depends on what you are going for.
You can get a basic one for much cheaper, but most anglers would suggest that you invest in a good one which will usually be around 2-4K USD. 
Can I install a trolling motor myself?
Yes, most trolling motors are meant to be installed by the user. They are relatively easy to install and will come with a detailed manual on how to go about the installation process.
Some require a bit more advanced skills and tools, but even then, you should be able to do it by yourself. 
How long do trolling motors last?
Most good quality trolling motors should last you at least 5 years, and up to 10 or more years with proper maintenance and repair.
It, however, depends on how you use your motor. Putting too much strain on it and not taking care of it properly can lead to early damage. 
What is the warranty on a trolling motor?
You will usually look at warranties of about two to three years for the popular brands, some might even give you 4 years.
The warranty you get usually depends on which brand you are purchasing. Most of them offer similar warranties, so it's not usually a deciding factor for most anglers. 
What is a good size trolling motor?
The size of trolling motor you need will depend on several factors, including the size of your boat, the weight of the boat and any gear you'll be carrying, and the conditions you'll be navigating in.
As a general rule, the minimum recommended thrust for a trolling motor is 2 pounds of thrust for every 100 pounds of boat weight. 
How big of a battery do I need to run a trolling motor?
Most trolling motors require either 12V, 24V, or 36V batteries. In each case, you would generally use one or more 12V batteries lined up in series for the motor.
Depending on how big your boat is, and what kind of conditions you troll in, your battery requirements would vary.

If your boat is very light, try not to go overboard and opt for motors that require just a 12V battery. Since the batteries are pretty heavy, they can often affect the performance of the trolling motor.
Final Thoughts
When it comes to choosing the right trolling motor for your boat, it's important to consider a few key factors such as the size of your boat, the type of water you'll be navigating, and the features you need to make your fishing experience more enjoyable.
For small boats like canoes, inflatable boats, and tenders, the Newport NV series and Minn Kota Endura C2 are great options with features like durable construction, variable speeds, and easy-to-use tiller handles.
For kayaks and other small watercraft, the Newport Kayak Series is a good choice, with its lightweight and compact design, adjustable shaft, and quiet operation.
If you're looking for a powerful motor for larger boats, the Watersnake Tracer and Venom SXW are great options. With features like stainless steel propeller shafts, weedless propellers, and telescopic tiller handles, these motors are designed to handle tougher conditions and provide optimal control.
For the ultimate fishing experience, the Motorguide Xi3 is a premium choice. With GPS anchoring, wireless remote control, and an LED dashboard, this motor offers unparalleled convenience and control.
Ultimately, the right trolling motor for you will depend on your individual needs and preferences. Consider the size of your boat, the type of water you'll be fishing in, and the features that will make your fishing experience more enjoyable, and choose a motor that fits your needs and budget.